Welcome to Box Fresh Glasgow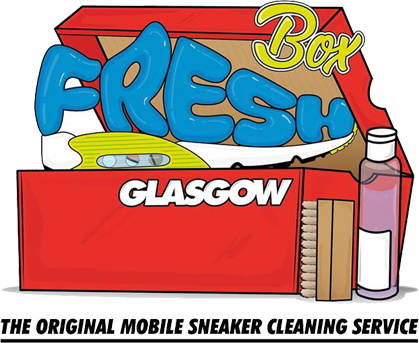 Welcome to Box Fresh Glasgow, your premier destination for professional sneaker cleaning, restoration, and luxury garment care services in the trendy city of Glasgow.
At Box Fresh, we specialise in bringing new life to your beloved sneakers, ensuring they look box fresh every step of the way. Additionally, our expertise extends to cleaning luxury garments, including high-end jackets from iconic brands such as Canada Goose, Stone Island, and Moncler. Our exceptional dry cleaning service guarantees your luxury garments and prized sneakers receive the same level of care and attention.
Our expert team of sneaker enthusiasts and garment care specialists understands the importance of keeping your favourite items in pristine condition. Whether it's your go-to pair of retro Jordans, coveted Yeezy and Dior sneakers, or cherished luxury pieces, we have the knowledge and expertise to clean and restore them to their former glory.
Using state-of-the-art cleaning techniques and premium products, we meticulously remove dirt, stains, and odours from your items, leaving them looking as good as new. From sneakers to luxury items, we take pride in our attention to detail and commitment to delivering exceptional results.
At Box Fresh Glasgow, we don't just clean items; we also offer additional services such as lace replacement, midsole repaint, and sole protection for sneakers, as well as specialised treatments and repairs to revitalise the appearance of luxury garments. We understand that your items are more than just possessions—they're a reflection of your style and identity. That's why we treat each piece with the utmost care and respect, as if they were our own.
Conveniently located in the heart of Glasgow, our professional studio provides a welcoming and friendly environment where you can drop off your items and trust that they're in capable hands. We also offer a pickup and delivery service for your convenience, so you can enjoy immaculate sneakers and perfectly cleaned luxury garments without any hassle. Moreover, for those outside of Glasgow, we welcome shoe deliveries from anywhere in the UK.
Trust the experts at Box Fresh Glasgow to give your items the TLC they deserve. Enhance their longevity, revitalise their appearance, and experience the joy of wearing impeccable footwear and luxury garments.